Fine Arts Academy, Split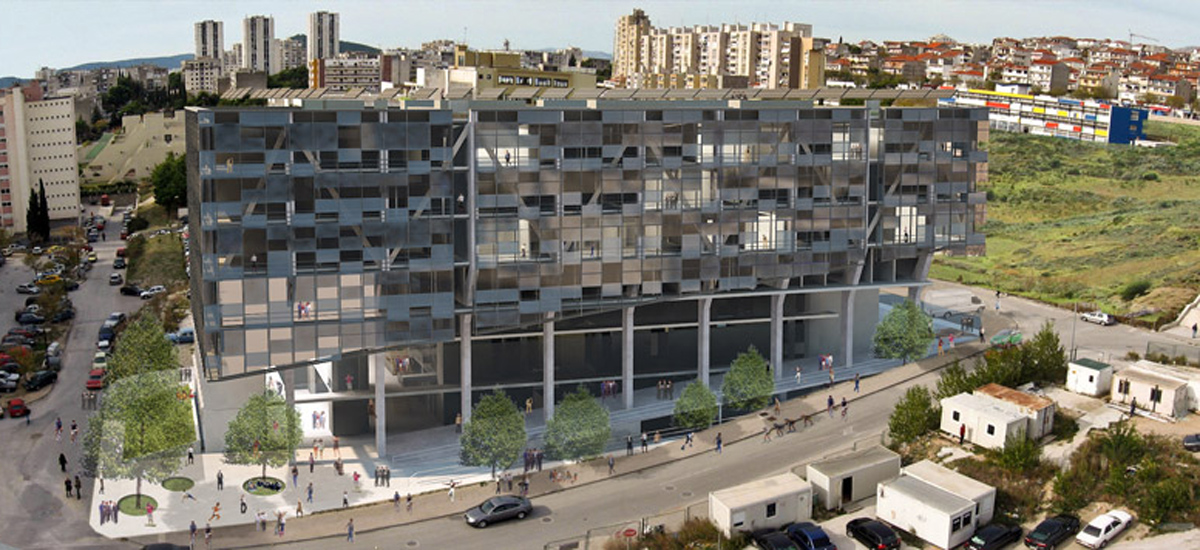 2009, Split (Croatia) – The International Competition for the new Split's Fine Arts Faculty took place in 2009. The proposal of this "Supersonic" project was to create a solid building elevated from the ground level by strong columns that leaves the maximum open public space on its surroundings. All the classrooms and offices for staff are in the perimeter of the building, in the center the multi-purpose concert hall becomes the heart of the project, and its roof works as a green courtyard for the last floors of the construction.
Despite its brutalism, the building is designed as an environmentally friendly construction with a green roof capable of accumulate the sun and the rain, and all the facade are protected by a system of practicable polarized glasses that can refuse the sun light or use it for the heating depending on the season.
International Competition
Split, Croatia 16.000 m²
http://www.d-a-s.hr/akademija/
TEAM
Author: Vesna Kovačević Nenezić, Marko Lipovac, Jose Manuel García Torres
Photography: Mario Lipovac
Architecture Design: Kristina Vidić, Andrej Nuić
Static: Ivo Sikirica
3D Graphics: Hrvoje Jurić
2D Graphics: Ivor Tomljanović
Graphic Design Consultant: Juri Armanda
---